Discover a rewarding and enriching career in the heart of the service industry.
We Have A Vision
Together we can build a community of quality and responsive services that will support people to live as independently as possible.
We believe that:
Teamwork is essential for success
Honesty and Transparency are fundamental in building relationships
Respect is required in all our interactions
Innovation is essential to meet the growing needs of our residents and clients
Versatility helps us to build systems that are responsive, timely and cost effective
Excellence is fundamental in all we do
At Thrive Group we value employee input, encourage innovation and foster collaboration.
If you are looking for an employer who will provide you with a competitive compensation package, on-going skills training, opportunities to grow and develop and a career that will make a difference in the lives of others – we want to hear from you.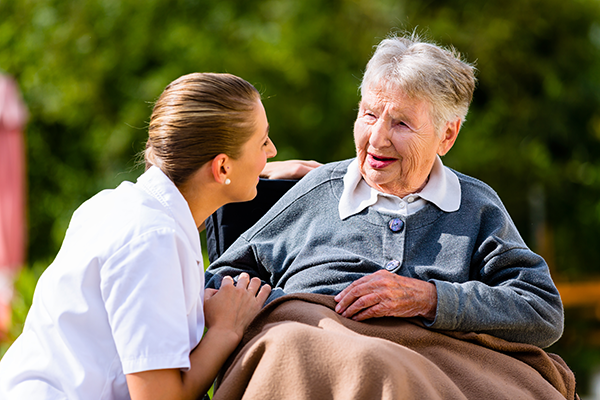 View Career Opportunities
I have been working at St. Peter's Residence at Chedoke for 14 years, when I was hired; I was a new grad having only been nursing for 1 year so I had a lot to learn. When I arrived to St. Peter's I was immediately welcomed by the team who provided me mentorship and support. Throughout my years at St. Peter's I have been able to join several different initiatives and committees, this has allowed me to expand my nursing knowledge and pass this knowledge on to nursing students through my involvement in the preceptor partnership program between Thrive group and Mohawk College. Since being a unit nurse I have had the opportunity to work my way up to the position of MDS RAI documentation nurse. The culture of St. Peter's has always been one who stands true to the Thrive values of teamwork, honesty, respect, innovation, versatility and excellence. We welcome new employees, we mentor, we support and there are always opportunities for learning and growth. I'm proud to be a part of this organization.

- Vanessa Lamouche, RPN

Working with the elderly patients in long term care encouraged me to take on another path in health care. Which I took a Nursing Aide course. Within the span of two years I had the opportunity to take on a full time position as a Nutrition Aide on Elm terrace {Secured unit). Working on Elm terrace opened the door for me to grow and expand my training. St. Peters has "In house "courses in which benefits employees for self betterment and of course expands better understanding of complex residents and situations that sometimes occur. I then decided to join the nursing team on Elm Terrace. This had given me a greater perspective ofthe nursing staff and the challenges associated with that role. During that period of time in my life, I realized that my true path was pursue back in the Nutrition field. At St. Peters all staff has been faced with many changes... but the sense of community had never diminished. Throughout my career, I made an effort to engage with the residents I work with on a personal level, to understand them, and upmost bring them joy each and everyday to the best of my knowledge and abiliti es. It is for these reasons that I continue to feel supported by the community I have built here for myself. I am excited to see how our facility continues to grow, and how I can further develop my skills, and the skills of others. Personally I consider St. Peters to be not only a home for our residents but a second home for the employees. St. Peters gives me the sense of "belonged to". We truly do care for our residents. If you are compassionate, caring, show dignity to the critically ill, then you belong here. You will have self reward and self fulfillment at the end of your worked day. - Sophia Ramotar, Food Service Worker
I have worked at St. Peter's Residence since 2004 and although we have had many changes, the heart of St. Peters, remains the same. Compassionate and caring for our residents. I am so proud to tell others. I work at St. Peters because everyone is valued for the job they do to make up the team that cares for our residents. St. Peters provides the support and tools to do our jobs right. When St. Peter's became part of Thrive group I had the opportunity to step out of my comfort zone and participate in a Family Council Forum on the discussion of Pathways for Resident Emergency Care. I was so nervous but when I looked out in the audience I could see members of our Leadership team there adding their support so my knees shook a little less and my voice grew a lot stronger knowing I had support. It was a great experience. I also had the opportunity to complete a Fellowship on "Providing Compassionate Care for those living with Dementia on a secured unit." This allowed me to develop a professional relationship with others inside and outside of St. Peters. I can also find some of my recommendations on the Elm Terrace. There are many opportunities for all employees to have a voice at St. Peter's. St. Peter's offers employees from all departments to become part of meaningful committees such as Ethics, Best Practice and the Mentorship Committee just to name a few. I also loved hearing the laughter of the staff when we were able to sit together for breaks. I love seeing staff dance and sing with the residents. I love seeing residents smile and laugh. I also know that we, the caregivers, give great care and for that I am proud. - Cindy Chovance, RN
I had the privilege of joining St. Peter's Residence at Chedoke in 2009. Upon graduating in 2008, I started working as a nurse for another long term care home before coming to St. Peter's. I will never forget walking through the doors for the first time and being greeted by so many friendly faces. I thought to myself, 'This would be a great place to work.' Immediately I felt at home, something in my heart sparked that morning. I knew that this place was different and I wanted to find out what made it so special. As I began to work, I embarked on the journey to discover what made St. Peter's stand out to me that day. As time passed, I learned about the culture of St. Peter's. Everything from their vision/mission, to values, to the people, all of which makes them so unique. The culture at St. Peter's is very diverse, I love how there are so many different cultures/backgrounds represented. Each person accepted, and walking in unity towards one goal. And that goal has always been to provide the best care to our residence. I have had the pleasure of working with an amazing team of co-workers. Every person, from PSW's, housekeepers, dietary aids, maintenance teams, RPNs, RNs and the leadership team as well, all working together for the same goal. I'm incredibly thankfuI for each of these people, and recognize that my job has been made easier and more enjoyable because of the people I work with. Together, we stand in unity to make a difference in our community. St. Peter's, who is now known as "Thrive Group" has taught me a lot about the value of one, and the importance of the holistic approach. My experience has also taught me that each one of us has different capacities and abilities, all of which are great gifts to serve others with. We all play such an important role in making Thrive Group the best it can be. I leave you with this quote by Mother Theresa, "I can do things you cannot, you can do things I cannot; together we can do great things." - Leaticia Ngeleka, RPN
I enjoy giving a helping hand in anyway I can, which is why I was happy to assist St. Elizabeth while they were in need. Working within Thrive has been such a rewarding experience, especially while having a full-time position and regular hours. I also really enjoy getting to meet new clients and having the opportunity to assist in the transition process with clients whether it is within their own home or LTC has been a rewarding experience. - Adefunke, PA
Where To Find Us
565 Sanatorium Road, Hamilton, ON L9C 7N4
Phone: (289) 309-8477
---